"That's the girl that wants to steal my boyfriend!" 
Sarah saw the skinny bitch walk into the girl's room by herself. It was now or never, if she was serious about confronting her. At first she wasn't going to do it, based merely on what the girls were talking - and they talked a lot! But this morning she saw with her own eyes how she came up to him, talking to him in a flirty way, and in the end Trevor even gave her a slap on her flat little ass!
No, if she didn't do something now, she'd end up being Trevor's new girlfriend, and Sarah would be the one everyone talked about. She couldn't let that happen. So she bit her lip, and walked into the bathroom to have a word with the little slut. Her name was Amy.
When Sarah entered, the situation seemed to be in her favor. Nobody around, only Amy standing in front of the mirror, fixing her makeup. Without losing any time, Amy looked her in the eyes, and came straight to the point:
"I saw you with my boyfriend this morning. Don't try to deny it!"
Amy slowly turned around, and looked at Sarah. She didn't seem to be intimidated at all. However, she didn't show any sign of confrontation either. She smiled, not in a vicious or sarcastic way, but with something that resembled genuine friendliness. 
"You must be Trevor's girlfriend... Sarah, is that right? I'm Amy, but you probably know that already. I'm sorry for the misunderstanding. He's all yours, I never meant to steal him away from you. He only wanted to fuck me, and I let him."
Sarah was startled by the blunt honesty. She expected an angry shouting match, full of twisted pieces of truth, turning quicly into who does what for money. But this girl wasn't even picking up the gauntlet.
"But let's face it," said Amy with a long look, "if you can't give him what he wants, he won't stick around for very long." 
"What do you mean 'give him what he wants'?" Sarah blurted out, "I even let him..." 
She stopped, realizing her foolish mistake. But this is exactly what she had been worried about why Trevor might want to dump her. Like most girls she was aware of locker-room talks, and how boys considered girls who were not into anal sex not worth their time. So when Trevor pushed, she gave in, letting him enter her virgin butt-hole. It was a painful experience, but Sarah clenched her teeth and endured it, trying so hard to be a good girl, his butt-slut, as he said. That was the last time they had sex, just before Amy appeared on the scene...
"What? Take your ass?" Amy said with a concerned look. "Oh honey, and how was it? Did you actually enjoy it? Do you think he did? 
There was no trace of sarcasm in Amy's voice, but Sarah felt humiliated by the realization that this girl might know something she didn't. Who did this bitch think she was, anyway? Shorter than Sarah, flat in the tits and ass department, and barely athletic, she was hardly as hot as herself. Though the way she talked she could have been the Whore of Babylon.
"You don't have to worry," 
Amy said, trying to ease the situation. "I really have no interest in fucking a guy more than once, and I could care less about Trevor. But if you like, I could give you some pointers in how to provide more joy with your ass... and maybe have some fun yourself." she added with a giggle.
By now her curiosity had gotten the better of Sarah, though she still couldn't manage to ask. She didn't have to, as Amy went right ahead explaining:
"It's the same as with so many other things: practice makes perfect. And it's really not that hard to exercise a little muscle like your sphincter. Here, take a look at this!" and suddenly Amy lifted up her little skirt, exposing her ass-cheeks. Between them, a large round plug filled out her butt-hole. It was pink, had a short handle in the middle, and it had the words BUTT-SLUT lettered around it. The strap of her thong was pulled tightly over it.
Sarah felt like screaming and running out of the bathroom before someone came in to catch her in this embarrassing situation. But she just couldn't stop staring at what seemed like a large object inside this girl's ass.
"It looks much bigger than it is," 
Amy said with a giggle. "Go ahead, you can touch it if you want."
The intrigued girl couldn't help herself. She grabbed a hold of the handle, tentatively with two fingers at first, then more firmly.
"Do you want to see how big it is? Go ahead, and pull it out." said Amy.
Sarah felt a rush of excitement overcome her. The sex-toy this girl was wearing, and more than that, offering her to touch, overrode her fear of being caught. She started pulling on the intruder. Amy let out a long sigh...
Suddenly Amy's sphincter opened up, releasing a teardrop-shaped stainless steel object. In was about as wide as the ring on the outside, and it didn't go in deeper than Sarah's forefinger, but the excitement of pulling something (...anything!) out of a girl's asshole, right here in the bathroom, drove Sarah crazy. Her pussy was dripping wet, and goosebumps covered her arms.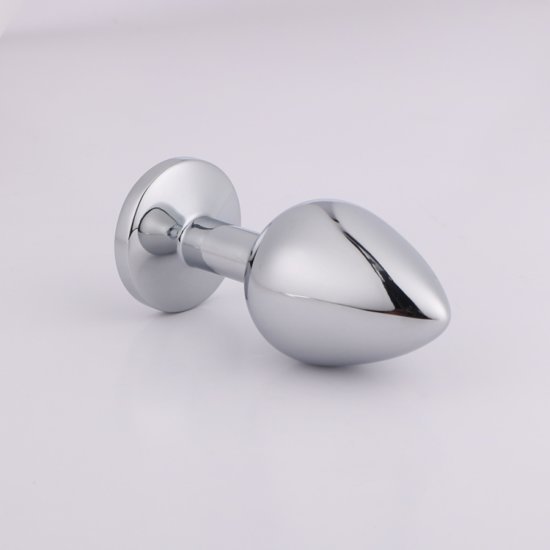 "See, it's really not that big. At home I use much bigger ones to practice, but this one is enough for something to wear throughout the day," explained Amy.
"Do you always have something inside of you?" 
Sarah finally managed to ask one of the thousands of questions her mind was flooded with.
"Not always, but I like to keep myself nice and open. Do you want to feel?"
Sarah was too shocked to respond, or even to move, so Amy reached with her own hand into her ass, sticking four fingers inside it at once.
"See, like this I could take a hard ass-fucking right now without a problem. A minute or two of stretching, and I could take my whole hand... or yours if you wanted." Amy said with a smile. "So can you, after only a week of practicing." 
Sarah's stunted look told Amy that the girl would not be taking much more excitement, so she hurried up giving her the basics.
"Here, why don't you hold on to this one, so you can practice at home?" Amy offered, putting the plug into her own mouth, sucking it, though it had seemed super clean already. "Don't worry, I keep myself always squeaky clean. That's another thing guys appreciate about a good butt-slut. No trace of shit anywhere. But I'll even wash it, just for you. Have fun with it, and don't forget, always use lots of lube. That makes a world of a difference! So see you round. I'm burning to know how it worked for you." with this Amy walked out of the bathroom, leaving Sarah in a daze, holding the shiny butt-plug.
When she regained her senses, she hid the sex-toy in her purse and started walking out of the bathroom, before she stopped and turned around, heading for one of the stalls. She just needed to rub her pussy...
Take a Look at the Other Chapters of this Story: