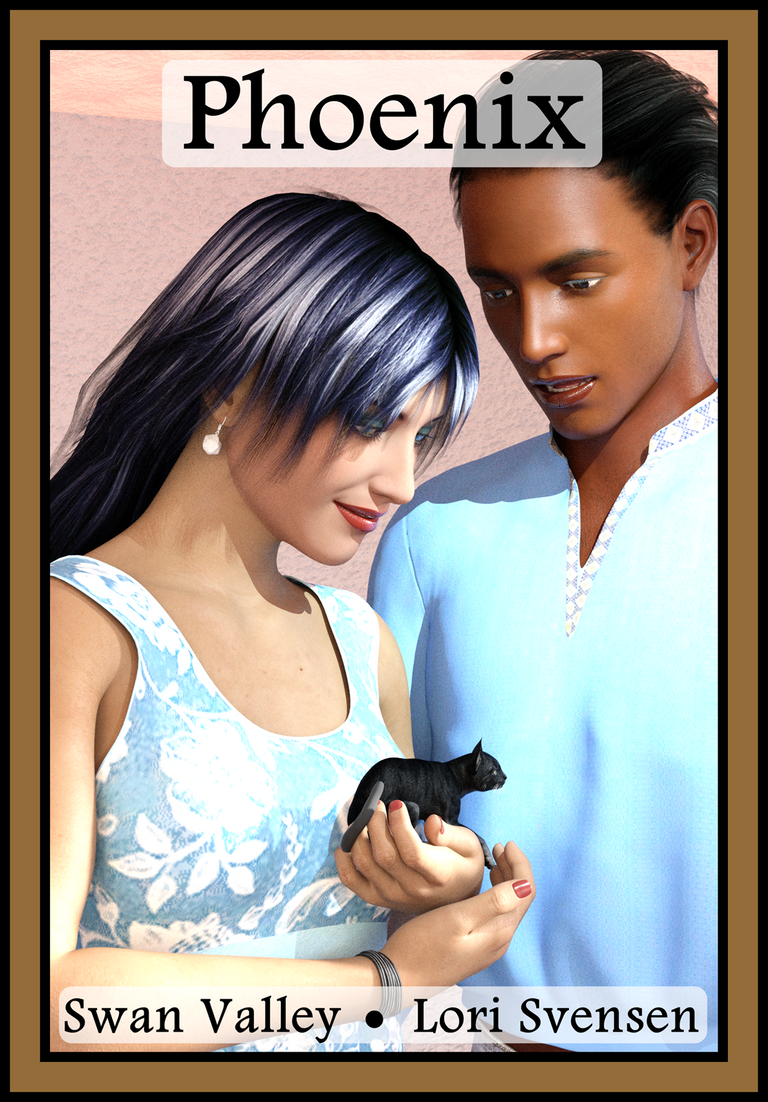 68
.
It was several minutes before anyone said anything, following Sage Eagle's abrupt departure.
Phoenix quietly wiped the lard back off the cast iron pan and put it in the oven to season.
"I do believe a chieftain has been born," Dancing Bear said a few minutes later.
"I've never seen him like this!" Little Deer added. "I mean, he gets angry sometimes… mostly frustrated with himself, I should say… but I've never known him to hit someone before – especially not his own flesh and blood! I shouldn't have said anything..."
"Except that he was being eaten up with guilt," Dancing Bear explained. "This was a conversation that needed to happen – to let him know that he was right to defend Phoenix like that… And Phoenix, you should take this as assurance that you will be safe on Monday no matter who you might meet in Rawlins. He will defend you with blood if he has to!"
"Coonagwi," Little Deer said quietly. "I do believe my brother has fallen in love with you."
"It's not possible," Phoenix denied quickly, despite the fact that she fiercely wanted it to be true.
"I would have to agree," Dancing Bear added. "Only the deepest love would drive a man to behave in such a way – a way that's so beyond his normal character."
"He hated me two days ago… He could hardly love me now!" Phoenix protested further.
"He never hated you," Little Deer argued back. "He was so hung up on missing Star that he felt he would be cheating on her to love you. It was Pronghorn who reminded him that Star wouldn't want him to pine away like this."
"Pronghorn did that?" Phoenix asked, surprised.
Little Deer nodded. "Pronghorn cares deeply for you, but like a sister, not like a lover."
"We agreed on that," Phoenix replied.
"Do you love my brother?" Little Deer asked.
Phoenix nodded. "Yes. I can't help it. I tried not to, especially when he was so hostile to me. But I still love him."
She smiled. "I knew it! I knew you loved him, but just like him, you wouldn't admit it – even to yourself. You too are so alike! It will be a good match, won't it, Woxi?"
"I would have chosen them myself, had that power been in my hands," the woman replied.
"No match has been made!" Phoenix reminded them, feeling embarrassed at the prolonged speculation.
"It will, Phoenix. Give it time and it will be made," Dancing Bear answered. "But now, you need to go with Deheyi and have your hair dyed again. Your ex may or may not be fooled by black hair, but he'll definitely not be fooled by hair that's half back to your natural color!"
"It makes me sad to dye it," Little Deer said. "I love your natural color!"
"Thank you," Phoenix replied. "I'll enjoy it black again though – like yours. I've always loved black hair."
"We often admire that which we do not have," Dancing Bear added.
"Are you sure you don't need me for awhile?" Phoenix asked.
"I'm sure. I won't let harm come to your pan."
♥
Sage Eagle had felt very uncomfortable when his fit of violence came to light at Dancing Bear's earthship. Worse, it had come to light in front of her… He hadn't been able to control his anger – and that frightened him. He had also come perilously close to publicly announcing his feelings for Phoenix. He didn't want to do that until he was completely sure of their compatibility.
Culture shock, his father had told him. One of his father's gifts was that he tried to understand everyone. The problem was, this included his cousin, Jade Wolf. His father had told him once that it was in man's nature to 'sow wild oats,' he had called it. He had maintained that as long as a woman was willing (and old enough to be willing), there wasn't any harm in it. The cave man didn't have priests to marry a couple, after all, and no one wanted to be bound to an infertile partner. But what he'd just heard from Phoenix worried him. Maybe Jade Wolf was out of control… maybe he needed to be disciplined in some way or other. Phoenix insisted that no harm had been done, but Sage Eagle worried that he had spent too much time being bitter and not enough time romancing her. He had nearly pushed her into his cousin's arms – as Pronghorn had warned. He had left her vulnerable when she was unable to fully defend herself. All because of his wretched pride.
He noted that Jade Wolf's door was still closed and wondered whether his cousin had even emerged for breakfast. He felt bad to an extent… but he was still angry that he had posed enough of a threat to Phoenix that she'd hurt her ankle further, though she looked pretty good this morning. She looked good no matter what she was doing, he realized with a little irritation.
He heard them coming… his sister and niece accompanied by Phoenix and Rose. He should go and work on her house… calm his hormones down, inflamed by the way she looked at him, as well as the way Jade Wolf had tried to treat her. He wouldn't be a wolf!
Working with her the previous day had been a double-edged sword. It had proved that they could work together – that they might be compatible, but it had also fueled his dreams that night, dreams of her lying in his bed, her mousy hair spread around her head, her pale breasts heaving with her aroused gasps of pleasure. The dream culminated in him leaving a deposit inside her warm depths of heaven – that might grow into his own son. He laundered his sheets as soon as he got up and wondered whether his observant sister had noticed.
He needed a new box of condoms. He would place them in the van before Monday… just in case. Although he was pretty sure Pronghorn and the Swift twins were meant to go with him to Rawlins, it wouldn't be beneath Dancing Bear to pull them away at the last second – to make sure he spent a day alone with Phoenix. Just thinking about it made him heat with excitement. He'd better leave… now.
♥♥♥
Back to the prologue
Available to purchase at Books2Read. Print version will be available soon.
THANK YOU to everyone who has purchased one of my books. I appreciate every single one!
Image Credits
Phoenix
Genesis 8.1 by DAZ 3D Studio
Summer Dress by Pusey Designs
Mitsu Hair
Dice Earrings by Fisty
.
Sage Eagle
Genesis 8.1
Mada TnC Jeans by DAZ
Gypsy Shirt by Pusey Designs
PH Classic Hair
.
Kitten
Housecat by HiveWire
.
Background
Room4 by SmidA
---
Previous Swan Valley Stories:
Native Concession either in ebook form or [print]( . (June 2014, approximately 9 months before Phoenix.)
Location:
Swan Valley is a fictitious American Indian reservation located in the Great Divide Basin of Wyoming, USA. The Neme'o'ng (Swan People) are based on the idea of blending the Shoshoni and Arapaho peoples - as might have happened if they were stranded in a desolate area as a small band of misfits. I have developed their language from the same ideas.
---
Please read my note on romance, teenage intimate relationships and underage sex. I apologize if my understanding conflicts with your sense of morality, but I'm only looking at things realistically, not ideologically. I hope you enjoy reading as much as I enjoy writing!
---
Writing and artwork copyright myself 2005-2105 – all rights reserved.
If you are interested in helping me publish these works, please contact me on Facebook or Discord, viking-ventures#2883.
---

Lori Svensen
author/designer at A'mara Books
photographer/graphic artist for Viking Visual
(Buy my work at RedBubble, TeePublic, PicFair and DeviantArt.)
verified author on Goodreads
(Buy my books at Books2Read and at LBRY)
find me on Twitter

---

Join The Best Natural Health Community on Hive