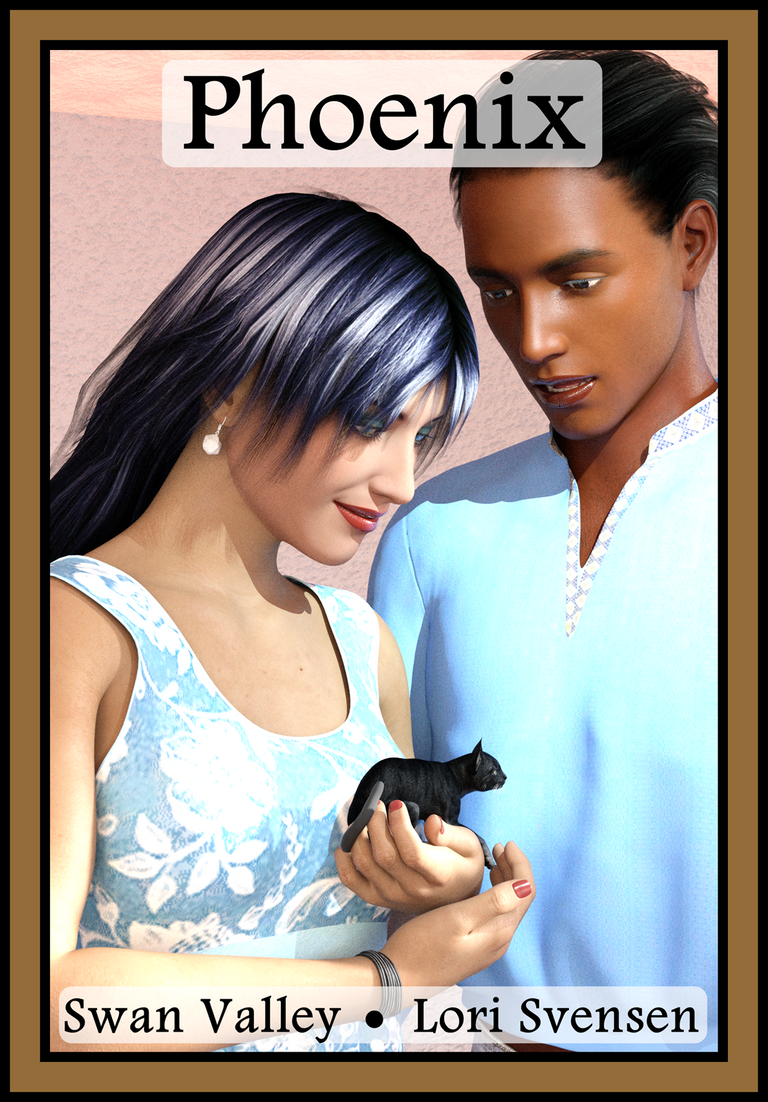 69
.
"I love taking care of hair!" Little Deer said, as she massaged shampoo into Phoenix's long hair. "It's so soothing!"
"You could become a beautician," Phoenix suggested, keen to notice something she could do to benefit the tribe and give her friend more pride.
"Maybe once Dove is old enough for school… I could take classes if someone wanted to drive me to Casper."
"I would do it myself if I had a car again!" Phoenix replied, her head still back, but noticing Nighthawk come in, appearing upside down to her.
"Deheyi, you do not need a career."
"Da, I want to! I could do everyone's hair here – combining our tribal traditions with modern techniques!"
"A woman should be able to work if she wants to," Phoenix defended. "I can help look after Dove, if that helps."
"Being a beautician doesn't mean I cannot look after Haiwi," Little Deer added. "I would work only while she is in school, but classes might not be so kind."
"If you are determined," Nighthawk conceded, smiling at both Little Deer and Phoenix.
"I am, Da!"
"Then you have my blessing. My only request is that you remain living in Ba'a O'ng."
"I could never leave!" she insisted. "Except when I travel with Coonagwi next year. We're going to see the ocean!"
Phoenix felt herself blushing. She hadn't realized how much it meant to her friend. Despite Frank still being out there, she was determined to make her friend's dream come true.
"Are you now?" Nighthawk asked with a smile.
"Yes," Phoenix replied.
"It will be interesting to see what my son has to say about that."
"He is welcome to join us – if he can remain civil with me, anyway."
Nighthawk's eyes gleamed with some excitement or other. "I expect you will have your hands full," he answered. "But I do hope it happens as you desire. It would be good for them to travel more."
Phoenix suddenly realized that Sage Eagle was standing in the doorway. She wondered how much he had heard. She blushed again as Little Deer rinsed her hair.
♥
Sage Eagle wouldn't quickly forget seeing Phoenix like that, her chest raised alluringly and her head down for his sister to attend to her hair. He agreed with what Phoenix had said about his sister being encouraged to study for her own career, but he wondered about this trip Phoenix had his sister excited about. He knew that he wouldn't be able to go unless something changed dramatically.
Even now, just watching her, he felt himself heating again, when he had just managed to calm his body down to be decent in public. For a moment, he wanted to forget any vow he had made to be good and treat her as he should. All he wanted right now was to rip her clothes off, part her thighs and slip between them, sliding his hard arousal into her heavenly chasm to find out if she was as delicious as his dreams had promised.
He would press his face between those heaving breasts, then take one succulent nipple into his mouth, then the other. How could he stand it?! Suddenly, he understood his cousin better. If any of the women Jade Wolf had bedded turned him on only a small fraction of how Phoenix was affecting him, he'd probably been unable to help himself!
"A woman may need a little gentle persuasion," his father had once told him. With Star, the temptation had been so mutual that there had been no question… but they were a lot younger and had not had tragedy and heartbreak mess with their minds yet. "You may not be a beast," Da had continued. "If she's not willing, you must respect her and back off. Maybe you'll have another chance later, maybe not, but if you want any future with her, you must respect her wishes."
Great Spirit, help him, but he wanted to be a beast now! He'd tell his sister to leave and just help himself to her warm body, burrowing into her as quickly as he could. He needed to buy some condoms – today!
"Do you need Phoenix?" Little Deer asked.
Sage Eagle narrowly avoided saying that he needed to take Phoenix to his room and make love to her for the rest of the weekend.
"I just wanted to check with her about the flooring as we'll be laying that tomorrow."
"I need to dye her hair… then you can take her wherever," Little Deer replied. "Just mind her ankle… Woxi will be angry if she can't walk on Monday!"
Sage Eagle watched the process silently, knowing he couldn't say where he really wanted to take her. He couldn't risk scaring her off now. Besides, Jade Wolf had insinuated that Phoenix might have resisted due to skin color… Sage Eagle wasn't sure what to think, considering that she had kissed his cousin several times, yet refused him when he wanted more. Somehow, he couldn't quite believe that race had anything to do with her refusal… but he wouldn't know until he could talk to her.
Monday… if he was right about Dancing Bear's plan, he would be able to really talk to Phoenix on Monday. He would find out whether he had any chance with her.
Maybe he'd get lucky too… If she didn't have issues with his brown skin and the opportunity presented itself, he doubted he could resist the urge to try. He wouldn't behave like his cousin, but he wouldn't be a gentleman either. If his cousin was right, she wouldn't let him get even close, but if Pronghorn was right, she would let him have a taste of her heaven. He needed to stop thinking about it right now!
Little Deer applied black dye to the roots of Phoenix's hair. She was as beautiful with brown hair as she was with black, but he understood why they took the precaution.
After what he did to his own cousin, he wasn't sure what he would do if they somehow ran into Phoenix's ex. Would the man be able to walk again? He wasn't sure. He supposed he'd better make sure he wasn't sent to prison though – that wouldn't get her into bed with him. But he didn't just want her in bed with him… he wanted more… a lot more. He would happily raise another man's daughters if she would make more with him.
"Let me know when you're done," he groaned, then went to his room. Monday couldn't come soon enough!
♥♥♥
Back to the prologue
Available to purchase at Books2Read. Print version will be available soon.
THANK YOU to everyone who has purchased one of my books. I appreciate every single one!
Image Credits
Phoenix
Genesis 8.1 by DAZ 3D Studio
Summer Dress by Pusey Designs
Mitsu Hair
Dice Earrings by Fisty
.
Sage Eagle
Genesis 8.1
Mada TnC Jeans by DAZ
Gypsy Shirt by Pusey Designs
PH Classic Hair
.
Kitten
Housecat by HiveWire
.
Background
Room4 by SmidA
---
Previous Swan Valley Stories:
Native Concession either in ebook form or [print]( . (June 2014, approximately 9 months before Phoenix.)
Location:
Swan Valley is a fictitious American Indian reservation located in the Great Divide Basin of Wyoming, USA. The Neme'o'ng (Swan People) are based on the idea of blending the Shoshoni and Arapaho peoples - as might have happened if they were stranded in a desolate area as a small band of misfits. I have developed their language from the same ideas.
---
Please read my note on romance, teenage intimate relationships and underage sex. I apologize if my understanding conflicts with your sense of morality, but I'm only looking at things realistically, not ideologically. I hope you enjoy reading as much as I enjoy writing!
---
Writing and artwork copyright myself 2005-2105 – all rights reserved.
If you are interested in helping me publish these works, please contact me on Facebook or Discord, viking-ventures#2883.
---

Lori Svensen
author/designer at A'mara Books
photographer/graphic artist for Viking Visual
(Buy my work at RedBubble, TeePublic, PicFair and DeviantArt.)
verified author on Goodreads
(Buy my books at Books2Read and at LBRY)
find me on Twitter

---

Join The Best Natural Health Community on Hive