Sarah felt she was on an emotional roller-coaster. Only a few days ago her biggest concern was that Amy was stealing her boyfriend, and even this morning she had been completely new to anal games. Now she suddenly found herself stuffing large sex-toys up Amy's ass, while wearing a butt-plug herself. And she was enjoying it! The naughtiness of anal sex, especially with another girl and her sister  made her excitement reach newer and newer heights. But now, being called a dirty girl felt less pleasant. Shame was creeping up on her.
Ever aware of her friend's inexperience, Amy put her arms around Sarah.
"I did try to clean myself like you said," Sarah complained. "I even put a finger up my butt to wash it."
"A finger? Really?" said Amy. "You know that plug goes in a lot deeper than that. Besides, imagine if Trevor was ass-fucking you, how much shit he would brush out?" 
"Ugh, stop it!" Sarah squealed playfully, but she knew her friend was right.
"Well, some people are actually into it, and if you think you are, I know exactly who you have to talk to. But Carol and I, we prefer being super clean at all times, and that goes for the inside of our asses. Don't worry, we'll show you how it's done. It's actually kinda fun! Well, one of them is. You'll see."
Right at the moment the door opened and Carol came back in, holding the freshly cleaned butt-plug, and a bunch of other mysterious gear that Sarah didn't recognize.
"Amy dear, why don't you introduce Squirty to Sarah, while I get the weekly cleansing ready for the two of you. I know, you've just had yours two days ago, but I think out of solidarity to your friend you should have one again."
Amy pouted her lips, but it seemed Carol had already decided. But then she smiled as she got to show Sarah her all-time favorite sex-toy, even though it was a piece of hygienic equipment. She jumped off the bench, and walked over to the bidet, which had a long hose on it. Proudly she presented its long nozzle to Sarah, beaming with the widest smile, standing there in her most natural nakedness.
"Meet my friend and wonderful lover, Squirty!" 
she giggled. "His head can spray water in all directions. You can stick him into your ass, and he can go in really deep, because he's not very wide. But when you turn on the water… oh, the pleasure! And you can play with him, moving him in and out… like he's fucking you! Wanna try?"
"Sure..." Sarah said, sounding anything but sure about it.
"Don't worry, it feels actually really nice. I use him twice a day, in the morning and in the evening, but sometimes throughout the day, just for fun. Here, take a look." 
And without saying any more, she stuck the nozzle into her butt, and turned on the water. The pleasurable sensation became immediately visible on her face, and Sarah started feeling sorry that she hadn't been more eager to try first.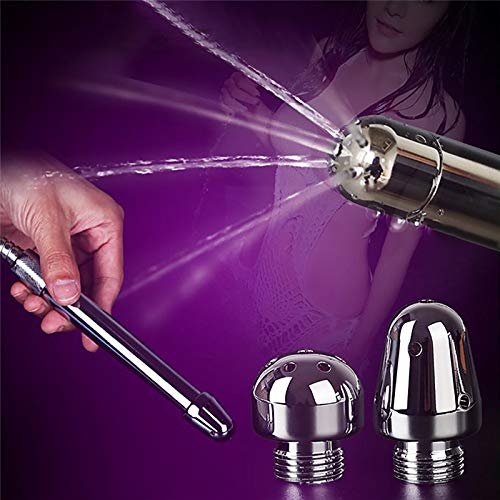 "Okay, come here and turn around," Amy said, reading her face. She slowly inserted the head of the nozzle into her friend's butt, and turned on the water low. The warm water was massaging her ass pleasantly, and Sarah relaxed a bit. Amy stuck it in a bit deeper, but the water started flowing out at the same time, taking some residue of poop with it.
"Oooh, gross!" said Sarah, as Amy removed the nozzle, turning up the water to wash off the bidet.
"See, Squirty does a good job for small things in the morning and in the evening. But without the weekly deep-clean he's clearly not enough."
"Ready for your weekly enema, girls?" 
Carol called cheerfully, and the girls walked back to the bench.
"I have a really small starter bag for Sarah here," she explained, "but Amy is now up to level four!"
Amy did not seem as proud as Carol's praise may have implied, but the two girls got up on the bench, and Sarah followed Amy's lead in taking position: standing on their knees and lying on their chests, their asses raised high in the air, next to each other.
"What a beautiful pair of young asses!" Carol admired, as she inserted the enema nozzles. "Ready, set, go," she sang and opened the valves at the same time. "Fifteen minutes is all we need, girls. Now be careful not to spill a drop."
At first it didn't feel very bad, but soon Sarah felt the water pressing deep inside her bowels and guts. And there was still more flowing in. Eventually she felt super full, more than ever before.
She looked at her friend at her side, who seemed to be struggling with more and more of the same thing. A quick glance at the bottles above them told Sarah clearly that while hers had been successfully emptied into her ass, Amy still had more than twice as much to take. It seemed crazy to Sarah, not being able to imagine holding any more. What she had, was already giving her a hard enough time.
All in all, however, it wasn't nearly as bad as she had expected. This incredible fullness was turning Sarah on. She reached back to play with her pussy, and earned an approving smile from Amy.
"You like this, don't you?" she said. "I would enjoy it too, but Carol always likes to fill me up so much, pushing my limits. But it's a nice feeling right?" 
"It is. My belly feels like it wants to explode." 
said Sarah. "But next time I want to try a bigger bag," she added quickly.
"Don't get ahead of yourself," Amy laughed. "We still have more than ten minutes to go. And it's not going to get better..."
Soon Sarah understood what she meant. The water kept making noises in her belly, and occasionally she felt an immense amount of pressure cramping in her ass, feeling the urgency to relive herself grow to the nearly unbearable. Amy could see the agony in Sarah's face, so she grabbed her hand.
"Let's distract ourselves a bit," she declared, and gave Sarah a kiss on her mouth. Sarah was a bit surprised, but returned the kiss, and soon the two girls were making out passionately on the bench. They took their time rolling their tongues around each other, licking each other's lips, and planting little kisses all over each other's mouths, only to continue sticking their tongues deep into the other girl's mouth.
"Am I your girlfriend now?" Sarah asked after their passion abated a bit.
"No, silly girl," replied Amy with a giggle. 
"You are my butt-slut enema sister!"
At that moment another heavy cramp hit Sarah, and she gave out a small yelp.
"What about Trevor, though?" she asked once the pain had passed.
"Oh, once you're nice and clean, and your ass well practiced … like in two days … you'll see, he'll be all over you."
"All right girls, time to evacuate," said Carol clapping into her hands. "Asses over the bathtub, and when I say go, you can let go."
As the girls were revealing themselves Carol made sure to take some good shots of them. 
Take a Look at the Other Chapters of this Story: