This is a story my twisted mind came up with, when I saw the post by @queen-of-heart inviting us to a story challenge. It did mention the words: most perverse thoughts, so I guess my mind just jumped up and ran with it. Please keep in mind, this is an extremely kinky story, though I guess it's not out of place given my screen name. Also, it's an aquatic story, following the guidelines that it has to be related to water. Whether you got turned on or disgusted by it, I would be curious to read about it in your comments. 
Attack of the Kolalarga
Stacy and Mark were your typical newlyweds who couldn't keep their hands off each other. Not that they hadn't had sex before they got married, but the whole setting of flying to an exotic island resort for their honeymoon was enough to bring their passion to new heights. Plus the fact they had two weeks completely for themselves, with nothing to do but each other.
At first it was nice to relax at the resort, but soon both of them had enough of the pretentiousness around the pool, and the corny entertainment at dinner. After the third day, where they spent more time in their room than outside, they decided to rent a jeep and explore the mountains of the island. There were some pristine lakes and waterfalls they had heard about, which wanted to check out for themselves.
The tropical heat felt like a steam-bath, but they didn't mind. Mark was driving without a shirt, still his firm upper body was glistening with continuous perspiration. Stacy's sun-dress was completely soaked as well, accentuating the full round shapes of her boobs, but in this heat she never even bothered putting on a bra.
Eventually they reached their destination: a lake with crystal clear waters, being fed by an enormous waterfall. On the shore of the lake a few huts gathered into a tiny hamlet, with a small hotel being the only establishment. It was late afternoon, so they booked a room, and decided to go for a swim before dinner.
Walking down to the shore of the lake, a family who had been enjoying the water, were just ready to leave. Mark was the first one to walk into the lake, splashing the cool water on himself, and then at Stacy, who was just getting her feet wet. Laughing at Mark, she kicked at the water, splashing back at him. Just as she was immersing herself, the family broke out in a commotion. The girls were screaming like they had seen a mouse, and the guys were yelling something in their local dialect. Apparently something had gotten them upset, having to do with the honeymooning foreigners. Eventually, however, they left them alone, though neither Stacy or Mark could figure out the reason for their concern.
"It was the Kolalarga," their waiter explained that evening, as he was bringing them their dinner. The same guy who had been their receptionist, as well as the bartender, spoke decent English, though with a strong accent.
"It's a local legend. An old superstition of the people who live around here. Nothing to be concerned about. They say La Kolalarga is a fish. He's a fish with a long tail who lives in these waters. He only comes out after nightfall, and only if there is a beautiful woman in the water. He can smell her… He falls in love with her, and then… He makes love to her…"
Stacy and Mark had a good laugh at this weird story, and it put them at ease knowing that it was not something they did to offend the locals, just being victims to a fairy-tale of what was probably some type of eel. During the evening they mentioned the Kolalarga various times, including after dinner, when Mark offered to show Stacy his own Kolalarga. It had been all quite amusing, and the sex was as good as ever.
However, that night Stacy could not fall asleep. The room had no air-conditioning and thought of a fish making love to woman kept her horny. Those people at the shore had seemed quite upset. For them it was not a silly superstition. They were seriously concerned.
"I'm going for swim," Stacy said to Mark, who responded with a grunt half-asleep. She didn't mind. It was too hot to sleep, and she was too excited. She would swim naked under the stars, and maybe think some more about this Kolalarga…
The water felt refreshing on her toes, and she felt a slight shiver as she immersed her nude body, leaving her dress on the shore. The night was filled with strange sounds of the forest, and a rising three-quarter moon was reflected in the water. Stacy was pondering the joy of so much beauty in nature, when she felt something brush her feet. Instantly she got a fright, then she couldn't help laugh at herself. 'Of course, it had to be the Kolalaraga!' Now she was ready. She lay on her back, and started stroking her pussy. Mark's semen had long been washed out, but now it was her own pussy leaking into the lake. 'Calling the Kolalarga', Stacy mused, as she was masturbating herself.
Suddenly something bumped into her again, this time on the inside of her knee, and before she knew it, she felt something push up against her vagina. 'This cannot be' Stacy thought in panic, 'the Kolalarga is just a legend!'
Far from being imaginary, whatever it was, was already between her lips. It was already inside of her! It felt cold and scaly, and it was inside her pussy. It was massive, filling her out like a dick, bigger and wider than anything she had felt. Worst of all, it seemed to pulsate, contracting and extending itself, drawing itself into her, deeper and deeper. And there was nothing Stacy could do about it.
She tried to scream, but she just ended up gasping for air. She tried to grab hold of the intruder, but it was too slippery, and moving too fast, to get a proper hold of. Most of all, she was overwhelmed by its penetration. Yes, it is true, she was actually getting fucked by this beast.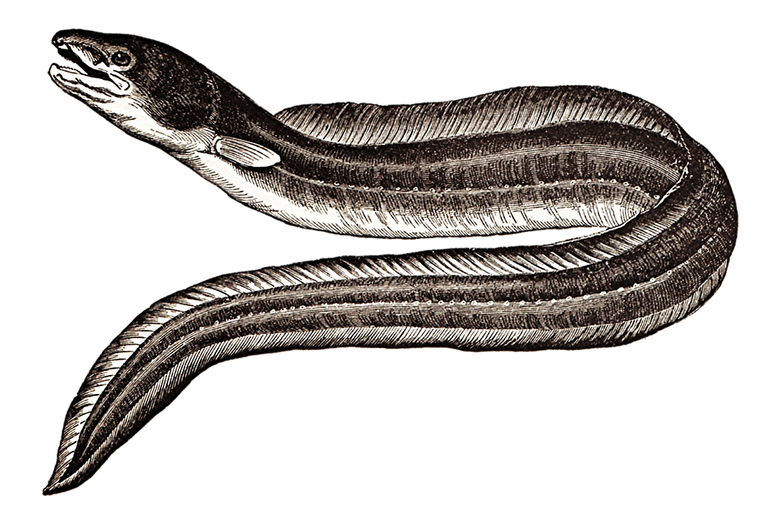 By now she felt herself completely filled, but the eel continued pulsating, pushing its head against her cervix. At the same time her pussy was responding to the pulsations, betraying her, as she felt the build-up of an incredible orgasm. Finally she felt the waves of pleasure roll over her. By now she didn't mind being raped by a fish, she was just letting it all carry her to previously never imaginable heights. As she peaked, she felt something strange, but in a naughty way also exciting: it felt as if the tongue of the fish had licked the inside of her womb. 
As her orgasm abated, Stacy felt the fish slide out of her, and disappear into the depths of the lake. Slowly she made her way back to the shore, and to the hotel. Drenched as she was, she let herself fall onto the bed, still riding the last ripples of the wave of this incredible fish-sex.
The events of that night stayed with her for long. She never talked about it, but whenever loneliness overtook her, she caught herself masturbating and fantasizing about the time she was taken by La Kolalarga.