A couple of days had gone by since their last encounter in the bathroom, when Sarah saw Amy walk up to her in the hallway. 
"So did you try it?" she asked with a beaming smile.
Sarah didn't know how to explain it to Amy. At home she was torn between her shame of playing with an anal sex-toy, even secretly by herself, and her curiosity regarding the obvious joy Amy was getting out of it. Plus, since Trevor hasn't been exactly attentive to her lately, she was hoping that this might be a way back to him. 
Following Amy's advice, Sarah applied plenty of Vaseline to both the plug and her butt, and then started pushing it in. Her little anus opened up, but not nearly wide enough to admit the entire width of the plug, and it took her a couple of trials before she managed to push it in. Once her sphincter closed around the object, she immediately felt full, as if she needed to go to the bathroom. But pulling it out deemed just as difficult as putting it in. After a moment of panic, she realized that she needed to calm down and relax her ass to get it back out. Eventually she succeeded, making a big mess, and Sarah felt horrible about it, but managed to clean up all the evidence of her perverted anal play.
"Oh, I know," Amy said as if she understood everything. "It can be quite difficult at first, especially getting it back out. But you know what? Why don't come over to my house later, and I can show you how it's done the easy way."
Again Sarah felt curious and excited. The look on her face must have been obvious, because Amy gave her a big smile, saying: 
"If you wear it on the way to my place, it will be especially sexy!"
Amy's house was only a twenty-minute bus ride for Sarah, but wearing the plug it felt like twenty hours. She had also wanted to impress her friend by wearing a sexy short skirt with a thong, like the one she had on when they first met. But this made everything so much worse. As hard as it was to get the plug out the first time, now she kept worrying about dropping it right in front of everyone on the bus. Walking the last two blocks felt like an ordeal, being so full.
She rang the doorbell at Amy's place, and a beautiful young woman opened up, wearing a Halloween costume of a sexy nurse.
"You must be Sarah, Amy's girlfriend," she said with a cheerful smile. "Come on in, I've been looking forward to meeting you. I'm Amy's sister Carol. My, you look gorgeous!"
And taking her hand, she led Sarah inside. On a second thought Sarah thought the costume was not so much Halloween-like, though it was a sexy nurse for sure. The skirt was way too skimpy, and the smock didn't do much of a job hiding Carol's voluptuous boobs. 
"Where is Amy?" Sarah wondered.
"Oh, she's waiting for you in the play room. She's busy taking the last ball. You'll see…!"
At that moment Carol opened the door to what looked like a cross between a spacious bathroom and a doctor's office. In the middle was a padded bench with Amy on it, naked, on her knees and elbows, with another sex-toy hanging out of her ass. This one looked much bigger than the plug Sarah was wearing. It was a ball on a string, and Sarah assumed there were a number of similar ones already inside her.
"We've been practicing so long, and finally she should be ready to take the last one," explained Carol. "Would you like to try pushing it into her?"
Sarah picked up the ball. It felt soft, but it was far from being squishy. It wouldn't be easy pushing it into an already full orifice.
"How many do you already have inside of you?" she asked Amy.
"Four. That's the fifth, and I'll be damned if I can't take them all. Go ahead, push it into my ass!"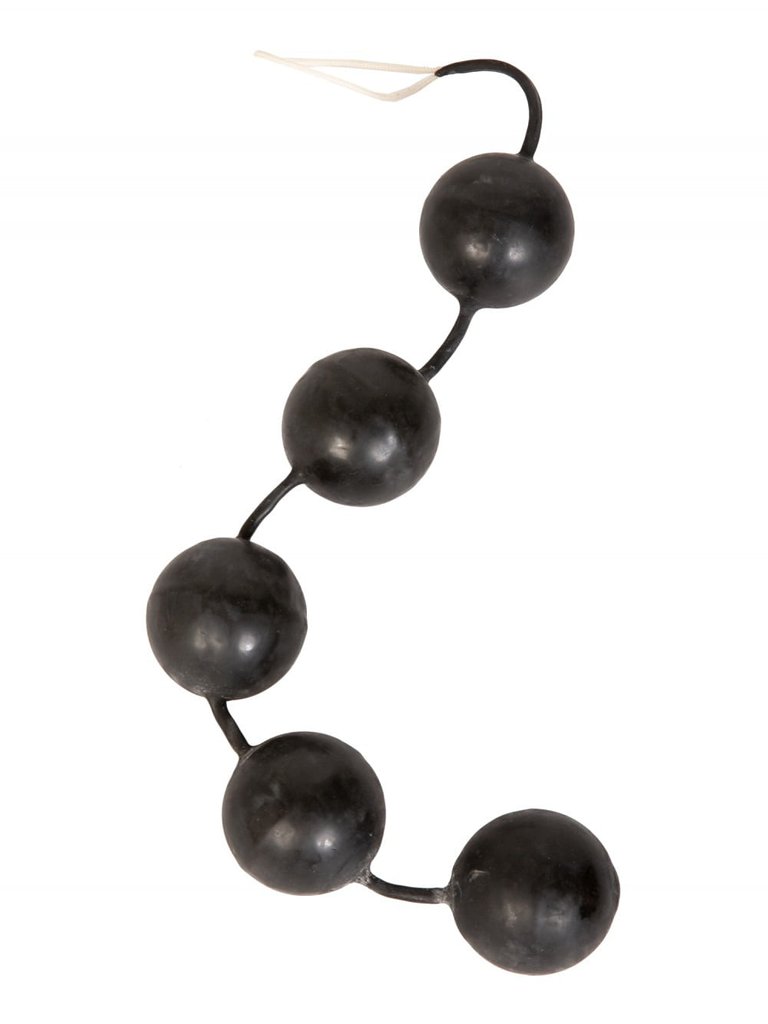 Carol inserted a finger of each hand into the small opening of Amy's anus, and pulled it slightly apart to show Sarah.
"See, there's plenty of space. 
We've worked them all deep into her little slut-hole. So now just push the last one in."
Sarah gave the ball a squeeze, and placed it onto the opening. The tiny hole started to get bigger, and she proceeded pushing it in. Amy let out a long moan, as the ball went in as far as it could. Amy's ass was still stretched open, and the ball was half-way out of her.
"Please push it in all the way!" Amy begged in a tear-filled voice, and Sarah pushed as hard as she could. Finally she saw Amy's sphincter close behind the large sphere, though still bulging out quite a bit.
"That's it, girl!" Carol cheered while massaging the outside of Amy's anus. "You did it! I'm so proud of you. And we got it all on camera."
It was only then that Sarah noticed the small tripod with the camera in the background.
"Now, if you want, you can pull it all out of the little butt-slut," said Carol, "but first we should get you pretty for the video." And without any further introduction, she opened up Sarah's blouse and pulled her bra down, so her boobs spilled out. "You are so lovely, my dear," Carol said approvingly. "Much more photogenic than your little girlfriend here!" giving Amy a slap on her ass. 
"It would be nice if you could give her ass a little kiss first, before pulling on the string."
Ever since arriving at this house Sarah had felt quite excited. But once Carol exposed her boobs she was overcome with sexual passion. She didn't care who the recording was for, or what else these two girls were up to. She just felt she needed to succumb to all this naughtiness. She wanted to kiss Amy's full, bulging asshole.
First she just touched it with gently with her lips. Then again, a bit longer. Eventually she opened her mouth, and pushed her tongue into her girlfriend's ass. The inserted ball wouldn't let her go very far, so taking the initiative she grabbed a hold of the string with her teeth, and pulled.
One by one the balls started popping out, to Amy's loud gasps and moans.
"Go ahead, play with your pussy, you sexy babe," 
Carol encouraged Sarah, who didn't need to be told twice. As the last ball popped out of Amy, she collapsed on the bench. 
"See how nice it is?" Amy said when she caught her breath. "I bet you'll also have a mega orgasm when we pull your butt-plug out."
Of course, the plug. Sarah almost forgot about it, though the pressing feeling inside her kept reminding her.
"Let me see to that…" said Carol, lifting up Sarah's skirt. "Okay, lean onto the bench, and relax your ass."
Carol did as she was told, while rubbing her clitty, and when the big intruder came out, she was actually swept by waves of joy, just like Amy had predicted. 
"Now, now, now… " said Carol disapprovingly, once Sarah's passion had abated. "Who's been a dirty girl here? Seems like I'll need to do some cleaning..." 
Take a look at the other chapters of this story: