On her way home from Amy and Carol's Sarah could hardly contain her excitement. Once again she was wearing her plug, but felt proud and confident about it. It was also nice to know that when she would take it out of her ass, it would be clean enough to suck on it, thanks to the intensive enema she got to experience.
She could not wait to go back again next week, and actually try a slightly bigger bag. Carol had also given her a similar nozzle to "Squirty", so she could clean her ass properly twice a day, as any good butt-slut should. Finally, Amy gave her a small device to lube herself up. It was a tiny syringe with a long rubber nozzle. She could fill it up with her favorite lubricant and squirt it deep into her ass, before getting a proper ass-fucking.
"I always use olive oil," she explained. "That way when you suck on the cock that just fucked you, you won't have to taste the Vaseline. Yuck! Plus, I think it's healthy… And you should know, what really proves you as a butt-slut is taking ass-to-mouth, preferably without being asked. As soon as the dick, or dildo, or whatever, comes out of your ass, you turn around and take it deep into your mouth. Believe me, Trevor will be all over you for it!"
"But how I do talk to him about it? He hasn't even called me lately."
"Oh, don't even worry about that. Just get that sweet butt-hole of yours nice and prepared, and let me worry about the rest."
Sarah wasn't sure what to think about that. Were Trevor and Amy friends somehow? She did say that she had no interest in him, and after that first incident she hadn't even seen them together. Trevor had been hanging around with his buddies mostly, so there was no sign of competition. So while Sarah could not make heads or tails of the situation, she didn't feel like she needed to worry about Amy.
At home she did everything she was told, washing her ass with the shower-nozzle every morning and evening, which she actually started enjoying a lot. She also made sure to wear the butt-plug for longer and longer time periods. By now it had become quite easy to put it in and take it out, and while it was inside her it didn't bother her, at least not like it used to. On the contrary, it was turning her on. So much so, that when she took it out, she would place it in her mouth, and masturbate to the idea of doing ass-to-mouth to Trevor.
A few days after visiting Amy, she felt fully ready. She had been wearing her plug since her morning cleaning, and in her purse she had a fully loaded oil squirter.
When she saw Amy, she walked up to her, announcing that she was ready for the next step.
"Meet me in the parking lot," 
Amy told her.
Not many people were in the lot at that time, and she saw Amy immediately. She was standing by herself next to Trevor's truck. "So, are you ready for a good, hard ass-fucking, you slut?" Amy asked with a kinky laugh.
"Oh, I don't know..." said Sarah, getting a little bit unsure about herself. "I did everything you told me, I kept training daily with the plug, wearing it for several hours, and today I've been wearing since this morning. But an ass-fucking? What if I'm not good enough?"
"Oh, nonsense!" said Amy with a wave of her hand. "But if you want, I can give you a quick test-run. Go ahead and touch your ankles!"
Sarah started feeling this amazing vertigo of excitement again. Whenever Amy told her these kinky things, she just wanted to follow her instructions, and arrive in this wonderfully perverted state. Before she realized it, she was bending over, her knees stretched, her hands on her ankles, and her little skirt raised to her hips. From the corner of her eye she caught the sight of Amy taking a huge black dildo out of her bag.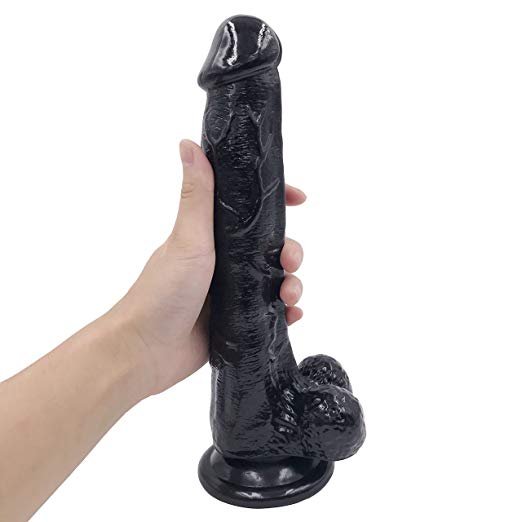 "So, let's see how easily your ass will give up what it's holding," said Amy, and pulled the plug unceremoniously from Sarah. She drew in a quick breath, but was quite proud of herself to have handled it so well. It was night and day, compared to the first few times.
Next, Amy gave her a good squirt of oil from the dispenser that Sarah had handed her of her bag.
"And now, say hi to my BIG friend. 
If you can handle him, you'll pass the Trevor-test with flying colors."
Suddenly Sarah felt her anus expand, and accommodate this truly massive toy. Amy didn't even take her time, shoving the monster in as far it would go at first, then moving it out again completely, before plunging it into her ass once more.
Sarah started panting, but she kept her knees pressed straight, not wanting to lose her composure. After all, she was getting ass-fucked right here under the open sky. Oh, just the thought made her pussy gush… But she had to keep focusing on her ass.
"Oh, now I see what kind of surprise you had for me," Sarah heard a familiar male voice behind her. It was Trevor, but at this moment she was in no condition to stand up or even look around.
"Yeah, can you imagine this little slut has managed to get so well trained in just under a week?" Amy said in a chirpy voice, as she rammed the dildo even deeper. "Do you want to try?"
"Do I? I've been having a boner since the minute I saw you two out here," 
Sarah heard Trevor say, and as soon as Amy pulled the large rubber cock from her ass, another cock replaced it. This one was warmer, softer, though harder at the same time, like a real human dick.
"I can't believe it," Trevor kept talking to Amy. "The first time I tapped this ass, it was all dry and cramped up, not wanting to give, and the bitch was almost ready to cry. And now look at this…!" and he rammed his dick balls deep into Sarah's ass, at a gradually increased speed.
While Sarah was taking Trevor's fucking up her ass, she noticed how Amy was dangling the long dildo in front of her face. Ass-to-mouth, she remembered, and was so eager to prove herself to Trevor that she reached out with her mouth and started sucking on the rubber dick. She didn't even have to let go of her ankles. Amy was just giggling, as she fed more of the monster into the girl's face.
"Holy fuck, look at that!" Trevor was panting. The sight must have done the rest for him, as he poured his hot sticky cum deep into Sarah's bowels. By now Sarah was so turned on, she looked up at Amy, and said:
"Can you please plug me back up again? I don't want his cum to pour out… until later."
Amy pushed the plug back in, which just plopped into place before Sarah's anus closed around it properly.
Sarah turned around immediately, and took Trevor's softening dick into her mouth to suck everything off of it. As she was doing so, she looked up at him with longing eyes, hoping he was satisfied with her skills.
Take a Look at the Other Chapters of this Story: