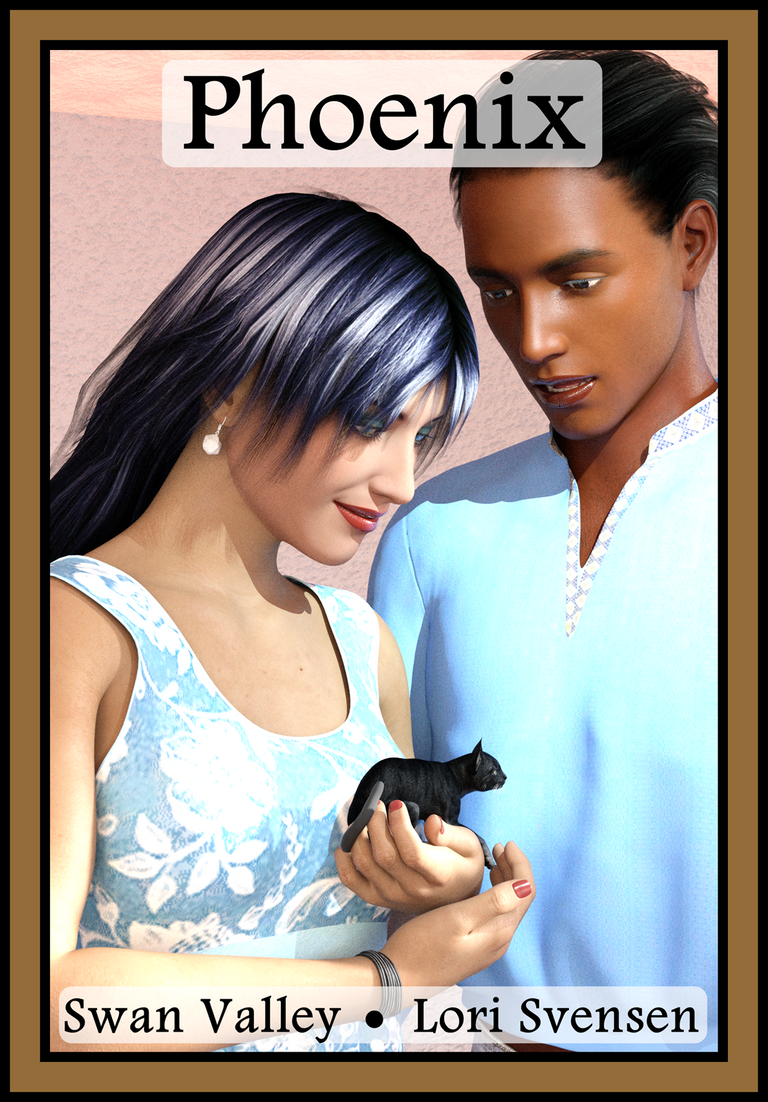 78
.
Phoenix felt more like a naughty child as she approached her new earthship, not with her children, but with the man who had occupied her dreams (both awake and asleep) ever since she'd learned she was going to be living on a reservation with the Neme'o'ng.
"Stop!" Sage Eagle commanded just before she was about to go in.
"What?"
"Wait right there… I'll be right back." He disappeared inside for a minute, then came back, empty handed. "I have heard that it's a good idea to do this..." He lifted her into his arms, causing her to squeal.
"What!"
He chuckled, but carried her inside, closing the door behind them.
"What are you doing?!"
"Haven't you heard of being carried over the threshold?" he asked.
"Of course… but I didn't think people actually did that!"
"Frank didn't?"
Her face clouded a moment. "He said I was too heavy."
"Then he's a wimp!" Sage Eagle hissed. "Not to mention cruel! I will show you what it means to make love!" He placed her in the middle of their new bed.
Phoenix started to get up.
"Stay," he suggested softly. "I'm going to do everything for you tonight… to show you how grateful I am to have your love, despite everything I did to try to drive you away..."
Phoenix lay there and watched, trusting him with her body as he began by removing a shoe, then the other. Then it was her socks. He kissed each toe and sucked lightly on each in turn. Sage Eagle smoothed his hands up her legs, inside her thighs, grazing her crotch as he reached the zip and button, undoing them quickly, then kissing her soft abdomen exposed above her panty line.
He moved up, lifting her shirt with his nose as he went. He licked her belly button, then kissed up her body until he reached her bra. He used his mouth to move the cup of fabric down and took her firm nipple into his mouth, drawing her flesh into his warmth.
Phoenix moaned softly, surprised by the intensity of pleasure he was evoking.
"Our baby will need these soon enough, but I will use them until then!" he told her.
"Yes!" she whimpered increasingly desperate for the main course.
He either didn't know, or he ignored her desperation as he suckled, giving her intense pleasure that Frank had never thought to give her. Sage Eagle removed her top and bra and discarded them – on the floor Phoenix supposed, but she didn't care. She knew this was where she was meant to be.
Then he let go of her breasts and moved down again, her nipples still peaked from the stimulation. He lingered momentarily at her belly button, but then kept moving, nudging her pant material out of the way revealing more and more of her body.
Her pants eased gradually down her hips, followed by her panties.
"You are so beautiful!" Sage Eagle breathed a moment before he parted her thighs. Phoenix prepared for his powerful entry, but was surprised when she felt his lips kiss her intimate center.
What was he doing?! She wondered as his tongue explored the area she hadn't finished exploring herself!
"Oh!" she cried out with the intense pleasure. She breathed heavily and intentionally, determined to keep control of her senses – as much as he seemed determine to drive her out of them!
"I take it Frank never did this…," he said, then resumed tracing his tongue around all her parts.
"No! He never! Oh!" she cried out in desperate pleasure.
"Do you like it?" he asked aggravatingly.
"Yes!" she cried out more loudly than she intended. Phoenix wasn't sure she could take much more of this.
"I'm going to make a brown-skinned baby inside you. Is that okay?"
"Yes!" she cried out.
"Or, I could wait…," he teased.
"I need you!"
"Tell me what I am… to you."
"Kwina!" she replied.
"The new word..."
"Saaaannn, can't remember!"
He chuckled. "I'm not that cruel, T'suanki!"
"T'suanka!" she cried out. "I need you!"
"I'm coming," he promised, kissing back up her body. When he reached her lips, his hard lust slipped inside her waiting body.
"Oh!" she cried out, meeting his thrust with her own.
He stroked her slowly, almost excruciatingly slowly, rubbing across her arousal delicately and deliberately. "How many babies shall I give you?" he asked. "We need more Indians."
"I will do my part," she promised.
"Five? Would that be enough?" he asked. "And I'm going to start right now, placing the first one inside you, to be the one that binds us together."
"Love me!" she whimpered, needing…. Needing… something! She didn't know what it was, but she wanted more.
"Every day… every night, T'suanki! Until we can no more…"
Phoenix felt her body tensing like a spring being wound up as tightly as possible. She wasn't sure what was happening as she'd never felt such a thing before.
Sage Eagle moved faster now, and harder, deeper, more desperate. Phoenix felt her body tense harder in response, but still she didn't know what she was in for. She had never felt such desire with Frank!
He moved even faster, harder and she met his every thrust with her own. Maybe she could help him get there…
He groaned with need as his body slammed against hers, winding her tense desire even tighter.
"Our baby will be conceived," he told her once more.
All at once, her body released with waves of pleasure, so intense that it almost hurt! She cried out as she convulsed, her consciousness filled with fireworks of satisfaction being fulfilled at that moment.
The next moment, he groaned again, then pumped into her again, more deeply, then held still as she felt him explode within her.
"T'suanki! The word fits like it was made for us!" he murmured, lowering his exhausted body onto her. "How was that?"
"Wow," was all she could say. How could anyone describe what she had just felt for the first time?! " Wow."
She felt strangely tired as she lay there beneath him, but she also felt completely satisfied. Her hands ran through his hair. "I'm sorry," she said, pulling her hands out. "I forgot to ask."
"T'suanki… you may touch any part of me you like! I belong to you now… for as long as you'll put up with me!"
"I love you, T'suanka," she replied, then heard that his breathing had become softer and more regular. He had fallen asleep!
♥♥♥
Back to the prologue
Available to purchase at Books2Read. Print version will be available soon.
THANK YOU to everyone who has purchased one of my books. I appreciate every single one!
Image Credits
Phoenix
Genesis 8.1 by DAZ 3D Studio
Summer Dress by Pusey Designs
Mitsu Hair
Dice Earrings by Fisty
.
Sage Eagle
Genesis 8.1
Mada TnC Jeans by DAZ
Gypsy Shirt by Pusey Designs
PH Classic Hair
.
Kitten
Housecat by HiveWire
.
Background
Room4 by SmidA
---
Previous Swan Valley Stories:
Native Concession either in ebook form or [print]( . (June 2014, approximately 9 months before Phoenix.)
Location:
Swan Valley is a fictitious American Indian reservation located in the Great Divide Basin of Wyoming, USA. The Neme'o'ng (Swan People) are based on the idea of blending the Shoshoni and Arapaho peoples - as might have happened if they were stranded in a desolate area as a small band of misfits. I have developed their language from the same ideas.
---
Please read my note on romance, teenage intimate relationships and underage sex. I apologize if my understanding conflicts with your sense of morality, but I'm only looking at things realistically, not ideologically. I hope you enjoy reading as much as I enjoy writing!
---
Writing and artwork copyright myself 2005-2105 – all rights reserved.
If you are interested in helping me publish these works, please contact me on Facebook or Discord, viking-ventures#2883.
---

Lori Svensen
author/designer at A'mara Books
photographer/graphic artist for Viking Visual
(Buy my work at RedBubble, TeePublic, PicFair and DeviantArt.)
verified author on Goodreads
(Buy my books at Books2Read and at LBRY)
find me on Twitter

---

Join The Best Natural Health Community on Hive